Course: Agile DSDM & SCRUM Immersion — for DSDM Solution Development Teams · 2 days [M6]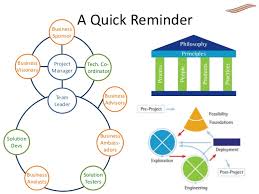 Course: Agile DSDM & SCRUM Immersion — for DSDM Solution Development Teams · 2 days [M6]
Prepare for the first agile timebox as a team. Understand agile values, team roles, life cycle, artefacts and collaboration mechanisms.
Duration: 2 days
Audience: DSDM Solution Development Teams
Learning Cases and Simulations:
✓ Understand how to embrace agile mindset and culture
✓ Define an SCRUM life cycle process that connects with DSDM
✓ Create and groom requirements using epics and stories
✓ Plan agile timeboxes
✓ Execute and collaborate during construction
✓ Use agile test strategies and agile-friendly test automation
✓ Integrate DevOps with a continuous delivery pipeline
✓ Use suitable tools for content management and tracking
1. Agile vs Traditional Way of Working
Agile mindset and culture
Evolutionary development
Agile frameworks
Agile vs traditional organization
The 8 DSDM principles
2. Project Framework: DSDM
DSDM process and products
DSDM roles and collaborations
Key DSDM practices: MoSCoW and timeboxing
How DSDM connects with the team level
3. Team Lifecycle Method: SCRUM
Scrum process and artefacts
Sprints and ceremonies
Epics, stories and backlogs
Daily sync-up meeting
4. Solution definition: PRL and stories
Themes, epics, and stories
Writing good user stories and acceptance criteria
Backlog grooming and story sizing
Story refinement approaches
5. Timebox Planning
Definition of done
Timebox/sprint patterns
Story and task estimating
Timebox/sprint planning meeting
6. Agile Development and Testing
Development and testing collaboration
Agile development strategy & practices
Agile testing strategy & practices
Continuous integration and testing
7. Timebox Execution, Review & Retrospective
How to complete all stories in a timebox
Story demos and timebox/sprint review
Continuous improvement through retrospectives
8. Integrated DevOps
What is DevOps and why is it important?
CI/CD pipeline and prerequisites
DevOps process
DevOps tooling
LANGUAGES
Dutch, English, French, German, Portuguese, Spanish
TRAINING VENUES
Our live online and self-paced formats permits anybody to participate regardless of your location.
In addition, we offer in-house training in any location worldwide.
Venues for public training are located in the following cities:
Seattle, San Francisco, Denver, Chicago, Boston, New York, Austin (USA) · Vancouver, Toronto, Ottawa, Montreal, Halifax (Canada) · Mexico City, Monterrey (Mexico) · Rio de Janeiro, Sao Paulo, Brasilia (Brazil) · Buenos Aires (Argentina) · Santiago (Chile) · Vienna, Montevideo (Uruguay) · Stockholm, Gothenburg (Sweden) · Copenhagen (Denmark) · Dublin, Cork (Ireland) · London, Manchester, Glasgow, Brighton (UK) · Paris, Lille, Toulouse, Lyon, Montpellier, Bordeaux, Nice (France) · Amsterdam, Rotterdam, Utrecht, Eindhoven (Netherlands) · Brussels, Antwerp (Belgium) · Berlin, Munich, Frankfurt, Hamburg (Germany) · Helsinki (Finland) · Tallinn (Estonia) · Vilnius (Lithuania) · Riga (Latvia) · Zurich, Geneva (Switzerland) · Vienna, Innsbruck (Austria) · Prague (Czech Republic) · Budapest (Hungary) · Warsaw, Kraków (Poland) · Milan, Rome (Italy) · Barcelona, Madrid, Valencia, Málaga (Spain) · Lisbon, Porto (Portugal) · Moscow, St Petersburg, Novosibirsk (Russian Federation) · Casablanca (Morocco) · Tunis (Tunisia) · Cape Town, Johannesburg, Durban (South Africa) · Nairobi (Kenya) · Lagos (Nigeria) · Tel Aviv (Israel) · Beirut (Lebanon) · Riyadh, Jeddah (Saudi Arabia) · Abu Dhabi, Dubai (UAE) · Doha (Quatar) · Delhi, Pune, Mumbai, Hyderabad, Bengaluru, Chennai (India) · Bangkok (Thailand) · Kuala Lumpur (Malaysia) · Singapore · Jakarta (Indonesia) · Ho Chi Minh City (Vietnam) · Seoul (South Korea) · Beijing, Shanghai (China) · Hong Kong · Tokyo, Osaka (Japan) · Sydney, Melbourne, Brisbane, Perth (Australia) · Auckland, Wellington (New Zealand)