Course: Azure DevOps Server (TFS) Portfolio Backlog & Story Management — for PO & BA · 1 day [I5]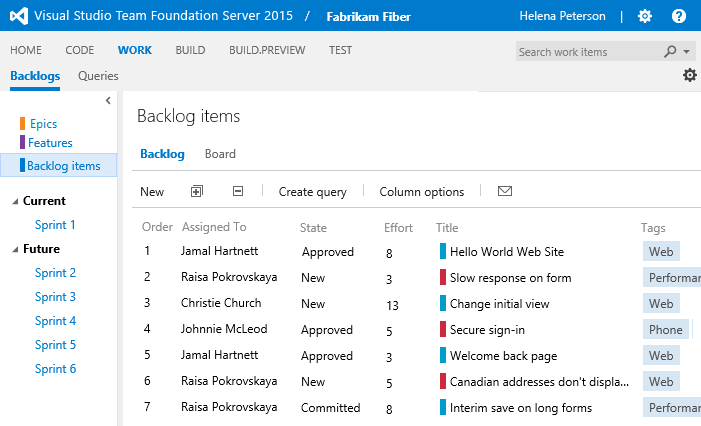 Course: Azure DevOps Server (TFS) Portfolio Backlog & Story Management — for PO & BA · 1 day [I5]
Learn through a hands-on workshop how to use Azure DevOps (formerly: Microsoft Team Foundation Server) for agile portfolio management, feature and story creation, backlog grooming and iteration preparation.
Duration: 1 day / 2 evenings / 7 hours
Audience: Product Owners, Business Analysts, Scrum Masters
Certification: Upon training completion
Courseware licensing: 3 months or perpetual
Learning Cases and Simulations:
✓ Work items and queries
✓ Initiatives, features and stakeholders
✓ Story writing and story point estimating
✓ Backlog grooming and story point estimating
✓ Backlog ranking and iteration forecasting
✓ Iteration preparation
✓ Test and defect management fundamentals
Pricing:
- View price at top after selecting Format / Public event
- For zone-dependent pricing, please select your zone
- For discounts and terms, please view pricing details
TRAINING VENUES
Our live online and self-paced formats permits anybody to participate regardless of your location.
In addition, we offer in-house training in any location worldwide.
Venues for public training are located in the following cities:
Seattle, San Francisco, Denver, Chicago, Boston, New York, Austin (USA) · Vancouver, Toronto, Ottawa, Montreal, Halifax (Canada) · Mexico City, Monterrey (Mexico) · Rio de Janeiro, Sao Paulo, Brasilia (Brazil) · Buenos Aires (Argentina) · Santiago (Chile) · Vienna, Montevideo (Uruguay) · Stockholm, Gothenburg (Sweden) · Copenhagen (Denmark) · Dublin, Cork (Ireland) · London, Manchester, Glasgow, Brighton (UK) · Paris, Lille, Toulouse, Lyon, Montpellier, Bordeaux, Nice (France) · Amsterdam, Rotterdam, Utrecht, Eindhoven (Netherlands) · Brussels, Antwerp (Belgium) · Berlin, Munich, Frankfurt, Hamburg (Germany) · Helsinki (Finland) · Tallinn (Estonia) · Vilnius (Lithuania) · Riga (Latvia) · Zurich, Geneva (Switzerland) · Vienna, Innsbruck (Austria) · Prague (Czech Republic) · Budapest (Hungary) · Warsaw, Kraków (Poland) · Milan, Rome (Italy) · Barcelona, Madrid, Valencia, Málaga (Spain) · Lisbon, Porto (Portugal) · Moscow, St Petersburg, Novosibirsk (Russian Federation) · Casablanca (Morocco) · Tunis (Tunisia) · Cape Town, Johannesburg, Durban (South Africa) · Nairobi (Kenya) · Lagos (Nigeria) · Tel Aviv (Israel) · Beirut (Lebanon) · Riyadh, Jeddah (Saudi Arabia) · Abu Dhabi, Dubai (UAE) · Doha (Quatar) · Delhi, Pune, Mumbai, Hyderabad, Bengaluru, Chennai (India) · Bangkok (Thailand) · Kuala Lumpur (Malaysia) · Singapore · Jakarta (Indonesia) · Ho Chi Minh City (Vietnam) · Seoul (South Korea) · Beijing, Shanghai (China) · Hong Kong · Tokyo, Osaka (Japan) · Sydney, Melbourne, Brisbane, Perth (Australia) · Auckland, Wellington (New Zealand)