Course: Building Lean-Agile Mindset, Culture and Behaviors · 2 days [C2]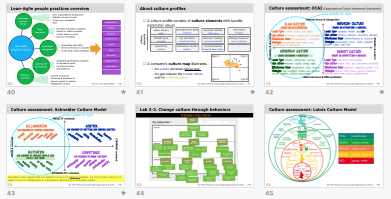 Course: Building Lean-Agile Mindset, Culture and Behaviors · 2 days [C2]
Enable a company's Agile journey by renewing people's mindset, modifying organizational designs, fostering collaborative team culture and changing behaviors. Create people value flow that is connected to business goals and that lets people engage, grow and thrive while always seeking better ways to create value for customers.
Duration: 2 days / 4 evenings / 14 hours
Audience: C-Level Executives, Directors, Managers, Change Agents, Coaches, Agile/Scrum Masters, Development Managers and Leads, QA Managers and Leads
Certification: CULTURE AGILIST
Learning Cases and Simulations:
✓ Lean-Agile mindset and culture attributes
✓ Lean waste analysis
✓ Culture assessment and targeting with the Schneider model
✓ Behaviour change management
✓ Management 3.0
✓ Goal setting with Objectives and Key Results (OKRs)
✓ The 5 roles to which performance influencing applies
✓ Personality evaluation with Five Factor Model
✓ Engagement surveys with Gallup's questions
✓ L&D strategy
✓ Agile workspace design
sale
BLOCK A · FOUNDATION
1 · Lean-Agile Values & Principles
Agile values and manifesto
Lean Thinking
Enterprise agility
Agile in the software industry
Exercise: Important and challenging Agile principles
Exercise: Analysis of waste types in your organization
2 · Lean-Agile People & Organization
'People' rather than 'resources'
Motivation 3.0
Agile organization patterns
Team collaboration
Exercise: Identification of value for people
_Exercise: Moving motivators
BLOCK B · STRATEGY
3 · Agile Culture Strategy
Culture assessment
Culture mapping
Aligning culture targets with company vision
Engagement & motivation assessment
Exercise: Brainstorm & synthesize strategic culture goals
Exercise: Apply culture mapping to visualize current and desired culture elements
BLOCK C · IMPLEMENTATION
4 · Agile Mindset & Culture Shifting
Leading culture changes
Creating employee engagement
OKRs
Management 3.0
Continuous improvements with Kaizen & retrospectives
Exercise: Define 3 desired behaviors and associated enablers
Exercise: Create OKRs for your HR objectives, key results and actions in the next quarter
Exercise: Conduct a retrospective (with role playing)
5 · Talent & Performance Nurturing
Agile talent acquisition
Performance influencing
Lean-Agile HR
Exercise: Create a talent nurturing plan for your organization
Exercise: Five Factor Model (FFM) and personality evaluation
6 · Agile Working
Agile working styles
Agile working methods
Agile work spaces
Exercise: Design an Agile work space
Exercise: Purchase Agile working tools
LANGUAGES
Dutch, English, French, German, Portuguese, Spanish

TRAINING VENUES
Our live online and self-paced formats permits anybody to participate regardless of your location.
In addition, we offer in-house training in any location worldwide.
Venues for public training are located in the following cities:
Seattle, San Francisco, Denver, Chicago, Boston, New York, Austin (USA) · Vancouver, Toronto, Ottawa, Montreal, Halifax (Canada) · Mexico City, Monterrey (Mexico) · Rio de Janeiro, Sao Paulo, Brasilia (Brazil) · Buenos Aires (Argentina) · Santiago (Chile) · Vienna, Montevideo (Uruguay) · Stockholm, Gothenburg (Sweden) · Copenhagen (Denmark) · Dublin, Cork (Ireland) · London, Manchester, Glasgow, Brighton (UK) · Paris, Lille, Toulouse, Lyon, Montpellier, Bordeaux, Nice (France) · Amsterdam, Rotterdam, Utrecht, Eindhoven (Netherlands) · Brussels, Antwerp (Belgium) · Berlin, Munich, Frankfurt, Hamburg (Germany) · Helsinki (Finland) · Tallinn (Estonia) · Vilnius (Lithuania) · Riga (Latvia) · Zurich, Geneva (Switzerland) · Vienna, Innsbruck (Austria) · Prague (Czech Republic) · Budapest (Hungary) · Warsaw, Kraków (Poland) · Milan, Rome (Italy) · Barcelona, Madrid, Valencia, Málaga (Spain) · Lisbon, Porto (Portugal) · Moscow, St Petersburg, Novosibirsk (Russian Federation) · Casablanca (Morocco) · Tunis (Tunisia) · Cape Town, Johannesburg, Durban (South Africa) · Nairobi (Kenya) · Lagos (Nigeria) · Tel Aviv (Israel) · Beirut (Lebanon) · Riyadh, Jeddah (Saudi Arabia) · Abu Dhabi, Dubai (UAE) · Doha (Quatar) · Delhi, Pune, Mumbai, Hyderabad, Bengaluru, Chennai (India) · Bangkok (Thailand) · Kuala Lumpur (Malaysia) · Singapore · Jakarta (Indonesia) · Ho Chi Minh City (Vietnam) · Seoul (South Korea) · Beijing, Shanghai (China) · Hong Kong · Tokyo, Osaka (Japan) · Sydney, Melbourne, Brisbane, Perth (Australia) · Auckland, Wellington (New Zealand)