Video eCourse: Building Lean-Agile Mindset, Culture and Behaviors · CULTURE AGILIST Certification · 10-14 hours [C2ve]
Video eCourse: Building Lean-Agile Mindset, Culture and Behaviors · CULTURE AGILIST Certification · 10-14 hours [C2ve]
Renew people's mindset, design a new organization, foster collaborative culture and change behaviors, creating value for customers with high employee engagement.
Format: Self-paced instructor-led videos and labs
Content: 20 videos, instruction slides, exercises.
Duration: 10-14 hours
Audience: R&D Managers & Leaders, Change Agents, Coaches, Agile/Scrum Masters
Certification: CULTURE AGILIST
Price: €35 ($39 USD)
Learning Cases and Simulations:
✓ Lean-Agile mindset and culture attributes
✓ Culture assessment and targeting with the Schneider model
✓ Behaviour change management
✓ Management 3.0
✓ Goal setting with Objectives and Key Results (OKRs)
✓ The 5 roles to which performance influencing applies
✓ Personality evaluation with Five Factor Model
✓ Engagement surveys with Gallup's questions
✓ L&D strategy
✓ Agile workspace design
sale
BLOCK A · FOUNDATION
1 · Lean-Agile Values & Principles
Agile values and manifesto
Lean Thinking
Enterprise agility
Agile in the software industry
Exercise: Important and challenging Agile principles
Exercise: Analysis of waste types in your organization
2 · Lean-Agile People & Organization
'People' rather than 'resources'
Motivation 3.0
Agile organization patterns
Team collaboration
Exercise: Identification of value for people
Exercise: Moving motivators
BLOCK B · STRATEGY
3 · Agile Culture Strategy
Culture assessment
Culture mapping
Aligning culture targets with company vision
Engagement & motivation assessment
Exercise: Brainstorm & synthesize strategic culture goals
Exercise: Apply culture mapping to visualize current and desired culture elements
BLOCK C · IMPLEMENTATION
4 · Agile Mindset & Culture Shifting
Leading culture changes
Creating employee engagement
OKRs
Management 3.0
Continuous improvements with Kaizen & retrospectives
Exercise: Define 3 desired behaviors and associated enablers
Exercise: Create OKRs for your HR objectives, key results and actions in the next quarter
Exercise: Conduct a retrospective (with role playing)
5 · Talent & Performance Nurturing
Agile talent acquisition
Performance influencing
Lean-Agile HR
Exercise: Create a talent nurturing plan for your organization
Exercise: Five Factor Model (FFM) and personality evaluation
6 · Agile Working
Agile working styles
Agile working methods
Agile work spaces
Exercise: Design an Agile work space
Exercise: Purchase Agile working tools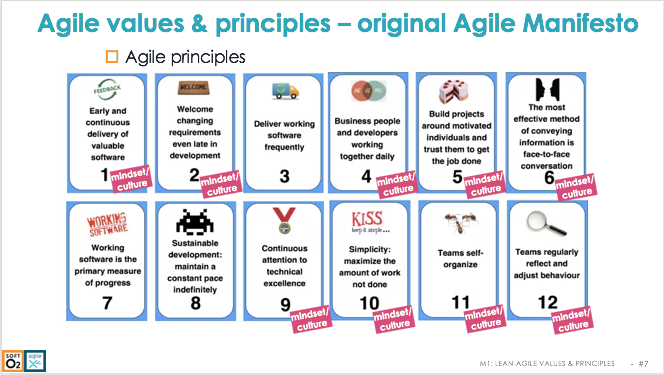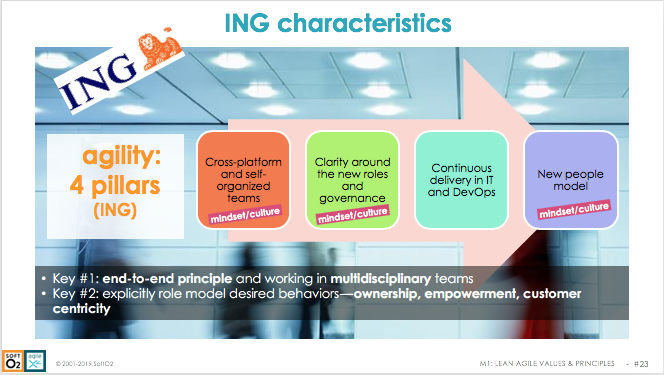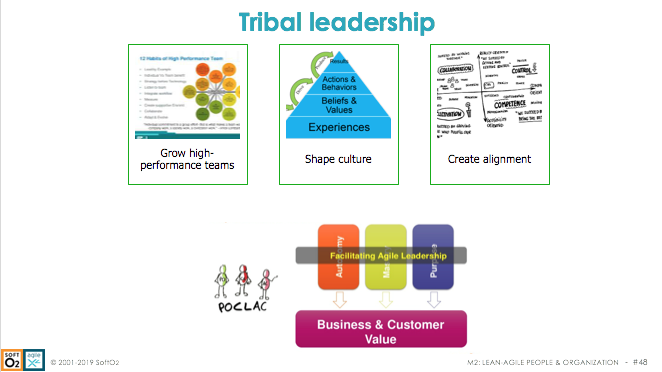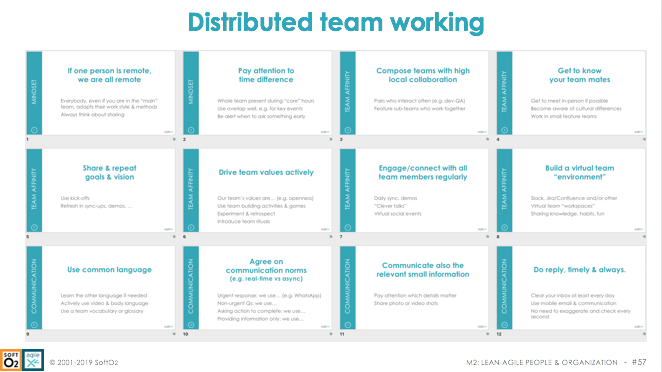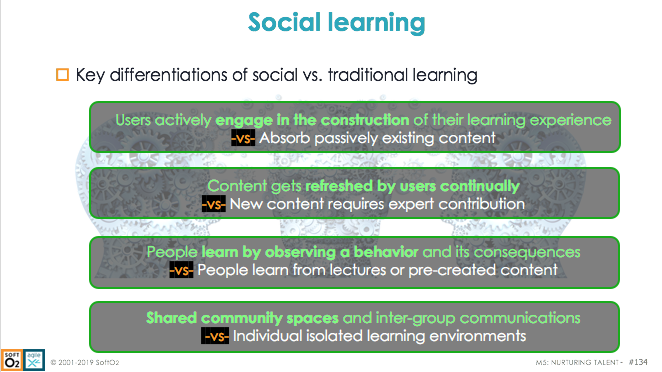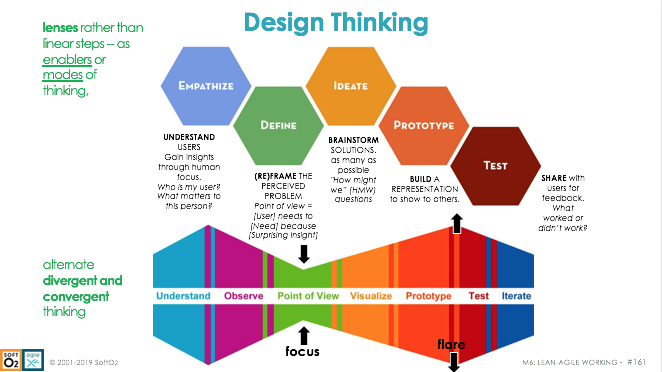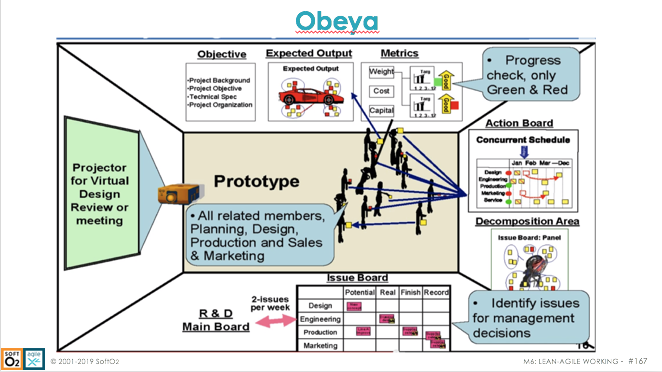 RELATED COURSES
◼ Lean Leadership Bootcamp [C1]
◼ Lean-Agile People & Culture Transformation — for HR [C3]
◼ Scrum and Kanban Implementation Bootcamp [M2]
◼ Lean-Agile Development with Scrum Overview [M3]
◼ Leading SAFe 4.5 with SA Certification [S1]
◼ SAFe 4.5 Scrum Master with SSM Certification [S4]
LANGUAGES
Dutch, English, French, German, Portuguese, Spanish

TRAINING VENUES
Our live online and self-paced formats permits anybody to participate regardless of your location.
In addition, we offer in-house training in any location worldwide.
Venues for public training are located in the following cities:
Seattle, San Francisco, Denver, Chicago, Boston, New York, Austin (USA) · Vancouver, Toronto, Ottawa, Montreal, Halifax (Canada) · Mexico City, Monterrey (Mexico) · Rio de Janeiro, Sao Paulo, Brasilia (Brazil) · Buenos Aires (Argentina) · Santiago (Chile) · Vienna, Montevideo (Uruguay) · Stockholm, Gothenburg (Sweden) · Copenhagen (Denmark) · Dublin, Cork (Ireland) · London, Manchester, Glasgow, Brighton (UK) · Paris, Lille, Toulouse, Lyon, Montpellier, Bordeaux, Nice (France) · Amsterdam, Rotterdam, Utrecht, Eindhoven (Netherlands) · Brussels, Antwerp (Belgium) · Berlin, Munich, Frankfurt, Hamburg (Germany) · Helsinki (Finland) · Tallinn (Estonia) · Vilnius (Lithuania) · Riga (Latvia) · Zurich, Geneva (Switzerland) · Vienna, Innsbruck (Austria) · Prague (Czech Republic) · Budapest (Hungary) · Warsaw, Kraków (Poland) · Milan, Rome (Italy) · Barcelona, Madrid, Valencia, Málaga (Spain) · Lisbon, Porto (Portugal) · Moscow, St Petersburg, Novosibirsk (Russian Federation) · Casablanca (Morocco) · Tunis (Tunisia) · Cape Town, Johannesburg, Durban (South Africa) · Nairobi (Kenya) · Lagos (Nigeria) · Tel Aviv (Israel) · Beirut (Lebanon) · Riyadh, Jeddah (Saudi Arabia) · Abu Dhabi, Dubai (UAE) · Doha (Quatar) · Delhi, Pune, Mumbai, Hyderabad, Bengaluru, Chennai (India) · Bangkok (Thailand) · Kuala Lumpur (Malaysia) · Singapore · Jakarta (Indonesia) · Ho Chi Minh City (Vietnam) · Seoul (South Korea) · Beijing, Shanghai (China) · Hong Kong · Tokyo, Osaka (Japan) · Sydney, Melbourne, Brisbane, Perth (Australia) · Auckland, Wellington (New Zealand)