Course: DSDM/Agile Developer Role Training · 0.5 day [D11]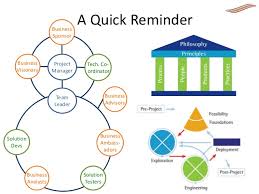 Course: DSDM/Agile Developer Role Training · 0.5 day [D11]
Learn how to be an effective agile developer in a DSDM Solution Development Team.
Duration: 0.5 day
Audience: DSDM Solution Developers
Prerequisite: Agile & SCRUM Immersion for DSDS Solution Development Teams
Learning cases and testing katas:
✓ Apply agile values and methods to development
✓ Define target quality and link this with business value
✓ Use testing quadrants to strategize and divide ownerships
✓ Collaborate with developers for a joint test strategy
✓ Plan testing when iterations are short
✓ Use exploratory testing in a scientific way
✓ Create smart test suites for frequent regression testing
✓ Make test automation agile-friendly
1 · Agile Test Process Transformation
Collaborative Solution Team test ownership
New test dimensions using agile testing quadrants
Testing stories
Agile-friendly test automation
2 · Agile Testing Strategies
Release and iteration test planning
Fitting the test activities inside the iteration
Efficient regression testing
Continuous integration and testing
3 · Agile Test Design and Execution
Test planning for short iterations
Efficient regression testing
Exploratory testing
Continuous integration and testing
LANGUAGES
Dutch, English, French, German, Portuguese, Spanish
TRAINING VENUES
Our live online and self-paced formats permits anybody to participate regardless of your location.
In addition, we offer in-house training in any location worldwide.
Venues for public training are located in the following cities:
Seattle, San Francisco, Denver, Chicago, Boston, New York, Austin (USA) · Vancouver, Toronto, Ottawa, Montreal, Halifax (Canada) · Mexico City, Monterrey (Mexico) · Rio de Janeiro, Sao Paulo, Brasilia (Brazil) · Buenos Aires (Argentina) · Santiago (Chile) · Vienna, Montevideo (Uruguay) · Stockholm, Gothenburg (Sweden) · Copenhagen (Denmark) · Dublin, Cork (Ireland) · London, Manchester, Glasgow, Brighton (UK) · Paris, Lille, Toulouse, Lyon, Montpellier, Bordeaux, Nice (France) · Amsterdam, Rotterdam, Utrecht, Eindhoven (Netherlands) · Brussels, Antwerp (Belgium) · Berlin, Munich, Frankfurt, Hamburg (Germany) · Helsinki (Finland) · Tallinn (Estonia) · Vilnius (Lithuania) · Riga (Latvia) · Zurich, Geneva (Switzerland) · Vienna, Innsbruck (Austria) · Prague (Czech Republic) · Budapest (Hungary) · Warsaw, Kraków (Poland) · Milan, Rome (Italy) · Barcelona, Madrid, Valencia, Málaga (Spain) · Lisbon, Porto (Portugal) · Moscow, St Petersburg, Novosibirsk (Russian Federation) · Casablanca (Morocco) · Tunis (Tunisia) · Cape Town, Johannesburg, Durban (South Africa) · Nairobi (Kenya) · Lagos (Nigeria) · Tel Aviv (Israel) · Beirut (Lebanon) · Riyadh, Jeddah (Saudi Arabia) · Abu Dhabi, Dubai (UAE) · Doha (Quatar) · Delhi, Pune, Mumbai, Hyderabad, Bengaluru, Chennai (India) · Bangkok (Thailand) · Kuala Lumpur (Malaysia) · Singapore · Jakarta (Indonesia) · Ho Chi Minh City (Vietnam) · Seoul (South Korea) · Beijing, Shanghai (China) · Hong Kong · Tokyo, Osaka (Japan) · Sydney, Melbourne, Brisbane, Perth (Australia) · Auckland, Wellington (New Zealand)