Course: SAFe 4.6 Advanced Scrum Master with SASM Certification · 2 days [S5]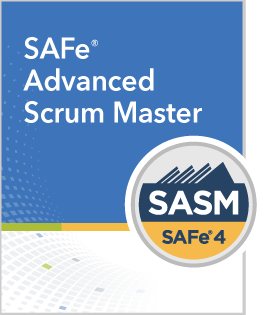 Course: SAFe 4.6 Advanced Scrum Master with SASM Certification · 2 days [S5]
Advancing Scrum Master servant leadership with the Scaled Agile Framework (SAFe®) with SAFe® Advanced Scrum Master Certification
Based on version 4.6 of SAFe
This two-day course prepares current Scrum Masters for their leadership role in facilitating Agile team, program, and enterprise success in a Scaled Agile Framework (SAFe®) implementation. The course covers facilitation of cross-team interactions in support of program execution and relentless improvement. It enhances the Scrum paradigm with an introduction to scalable engineering and DevOps practices; the application of Kanban to facilitate the flow of value; and supporting interactions with architects, product management, and other critical stakeholders in the larger program and enterprise contexts.
The course offers actionable tools for building high-performing teams and explores practical ways of addressing Agile and Scrum anti-patterns in the enterprise.
Duration: 2 days / 4 evenings / 14 hours
Audience: Existing Scrum Masters; Team leaders, project managers, and others assuming the role of an Agile Team facilitator in a SAFe or enterprise Agile context; Engineering and development managers responsible for Agile execution and coaching teams, including teams of teams; Agile coaches; Agile Program Managers; Prospective SAFe Release Train Engineers
Certification: SAFe Advanced Scrum Master (SASM) certification upon passing an exam
Courseware licensing: 3 months or perpetual subscription
Learning Cases and Simulations:
✓ Apply SAFe principles to facilitation, enablement, and coaching in a multi-team environment
✓ Build a high-performing team and foster relentless improvement at scale
✓ Address Agile and Scrum anti-patterns
✓ Support the adoption of engineering practices, DevOps, and Agile architecture
✓ Learn to apply Kanban eXtreme Programming (XP) frameworks to optimize flow and improve the team's work
✓ Facilitate program planning, execution, and delivery of end-to-end systems value
✓ Support learning through participation in Communities of Practice and innovation cycles
Pricing:
- View price at top after selecting Format / Public event
- For zone-dependent pricing, please select your zone
- For discounts and terms, view pricing details
Professional Benefits
Become a certified SAFe Advanced Scrum Master (SASM)
Receive 15 Continuing Education – Strategic PDUs (PMI)
Receive SEUs under category C, toward earning CSP (Scrum Alliance)
Get access to the Scaled Agile community and resources
Prerequisites
Recommended for those who intend to take the SASM certification exam:
Leading SAFe 4.x course
1 year experience as Scrum Master
The SoftO2-agileXL Training Experience
Expert instructor with track record
High-quality course materials
Templates, bonus slides and resource materials
12 months of Q&A support
COURSE OUTLINE
Lesson 1: Exploring the Scrum Master role in the SAFe Enterprise
Lesson 2: Applying SAFe Principles_ A Scrum Master's Perspective
Lesson 3: Exploring Agile and Scrum Anti-Patterns
Lesson 4: Facilitating Program Execution
Lesson 5: Improving Flow with Kanban and XP
Lesson 6: Building High-Performing Teams
Lesson 7: Improving Program Performance with Inspect and Adapt
TRAINING VENUES
Our live online and self-paced formats permits anybody to participate regardless of your location.
In addition, we offer in-house training in any location worldwide.
Venues for public training are located in the following cities:
Seattle, San Francisco, Denver, Chicago, Boston, New York, Austin (USA) · Vancouver, Toronto, Ottawa, Montreal, Halifax (Canada) · Mexico City, Monterrey (Mexico) · Rio de Janeiro, Sao Paulo, Brasilia (Brazil) · Buenos Aires (Argentina) · Santiago (Chile) · Vienna, Montevideo (Uruguay) · Stockholm, Gothenburg (Sweden) · Copenhagen (Denmark) · Dublin, Cork (Ireland) · London, Manchester, Glasgow, Brighton (UK) · Paris, Lille, Toulouse, Lyon, Montpellier, Bordeaux, Nice (France) · Amsterdam, Rotterdam, Utrecht, Eindhoven (Netherlands) · Brussels, Antwerp (Belgium) · Berlin, Munich, Frankfurt, Hamburg (Germany) · Helsinki (Finland) · Tallinn (Estonia) · Vilnius (Lithuania) · Riga (Latvia) · Zurich, Geneva (Switzerland) · Vienna, Innsbruck (Austria) · Prague (Czech Republic) · Budapest (Hungary) · Warsaw, Kraków (Poland) · Milan, Rome (Italy) · Barcelona, Madrid, Valencia, Málaga (Spain) · Lisbon, Porto (Portugal) · Moscow, St Petersburg, Novosibirsk (Russian Federation) · Casablanca (Morocco) · Tunis (Tunisia) · Cape Town, Johannesburg, Durban (South Africa) · Nairobi (Kenya) · Lagos (Nigeria) · Tel Aviv (Israel) · Beirut (Lebanon) · Riyadh, Jeddah (Saudi Arabia) · Abu Dhabi, Dubai (UAE) · Doha (Quatar) · Delhi, Pune, Mumbai, Hyderabad, Bengaluru, Chennai (India) · Bangkok (Thailand) · Kuala Lumpur (Malaysia) · Singapore · Jakarta (Indonesia) · Ho Chi Minh City (Vietnam) · Seoul (South Korea) · Beijing, Shanghai (China) · Hong Kong · Tokyo, Osaka (Japan) · Sydney, Melbourne, Brisbane, Perth (Australia) · Auckland, Wellington (New Zealand)