Course: SAFe 4.6 For Teams with SAFe Practitioner (SP) Certification · 2 days [S2]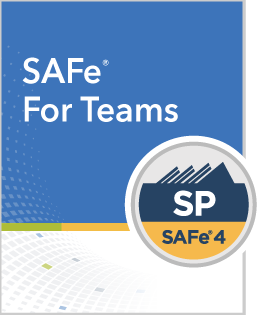 Course: SAFe 4.6 For Teams with SAFe Practitioner (SP) Certification · 2 days [S2]
Get empowered and deliver value as an effective team player in a Lean-Agile enterprise with SAFe® 4.6 Practitioner Certification.
Build the skills needed to become a high-performing team member of an Agile Release Train (ART)—and learn how to collaborate effectively with other team members and teams. During this two-day course, attendees will gain an in-depth understanding of the ART, how it delivers value, and what they can do to effectively perform their role using Scrum, Kanban, and/or XP.
They will also learn how to write stories and break down features, plan and execute iterations, and plan Program Increments. Finally, they'll learn about the continuous delivery pipeline and DevOps culture, how to effectively integrate with other teams in the program, and what it takes to continuously improve the train.
SAFe 4 Practitioner (SP) certification is included for all team members after an exam.
Duration: 2 days / 4 evenings / 14 hours
Audience: Agile Teams and all stakeholders of an Agile Release Train including Product Owners, Business Analysts, UX Specialists, Release Train Engineers, Scrum Masters, Developers, Test Developers, and Functional Testers.
Certification: SAFe Practitioner (SP) certification upon passing an exam
✓ Scaled Agile Framework overview and concepts
✓ Architectural Runway and Set Based Design
✓ Agile Release Train (ART)
✓ Program Increment objectives and (PI) planning
✓ Agile Team construction
✓ Iteration planning
✓ Iteration execution
✓ Program Increment Execution
✓ Inspect and adapt
Pricing:
- View price at top after selecting Format / Public event
- For zone-dependent pricing, please select your zone
- For discounts and terms, view pricing details
LEARNING GOALS
Apply SAFe to scale Lean and Agile development

Know your team and its role on the Agile Release Train

Know all other teams on the train, their roles, and the dependencies between the teams

Plan Iterations

Execute Iterations and demonstrate value

Plan Program Increments

Integrate and work with other teams on the train
HANDS-ON LABS
Scaled Agile Framework overview and concepts

Architectural Runway and Set Based Design

Agile Release Train (ART)

Program Increment objectives and (PI) planning

Agile Team construction

Iteration planning

Program Increment Execution

Inspect and adapt
PREREQUISITES
For those who intend to take the SP certification exam:
1+ years experience in software development, testing, business analysis, product or project management
THE SOFTO2 EXPERIENCE
Expert instructor with track record

High-quality course materials

Templates, bonus slides and resource materials

12 months of Q&A support
MODULE 1: INTRODUCING THE SAFe FRAMEWORK
Connect with the Scaled Agile Framework

Explore Lean, the Agile Manifesto, and SAFe Principles

Identify Scrum, Kanban and XP Practices
MODULE 2: BUILDING AN AGILE TEAM
Build your team

Explore the Scrum Master and Product Owner roles

Meet the teams and people on the train
MODULE 3: PLANNING THE ITERATION
Prepare the Backlog

Plan the Iteration
MODULE 4: EXECUTING THE ITERATION
Visualize the flow of work

Measure the flow of work

Build quality in

Continuously integrate, deploy, and release

Control flow with meetings

Demonstrate value

Retrospect and improve
MODULE 5: EXECUTING THE PI
Plan together

Integrate and demonstrate together

Learn together
LANGUAGES
Dutch, English, French, German, Portuguese, Spanish
TRAINING VENUES
Seattle, San Francisco, Denver, Chicago, Boston, New York, Austin (USA) · Vancouver, Toronto, Ottawa, Montreal (Canada) · Mexico City, Monterrey (Mexico) · San José (Costa Rica) · Rio de Janeiro, Sao Paulo (Brazil) · Montevideo (Uruguay) · Buenos Aires (Argentina) · Santiago (Chile) · Stockholm (Sweden) · Copenhagen (Denmark) · Dublin (Ireland) · London, Manchester (UK) · Paris, Bordeaux, Lille, Toulouse, Lyon, Nice (France) · Amsterdam, Rotterdam, Utrecht, Eindhoven (Netherlands) · Brussels, Antwerp (Belgium) · Berlin, Frankfurt, Munich (Germany) · Helsinki (Finland) · Tallinn (Estonia) · Zurich, Geneva (Switzerland) · Vienna (Austria) · Prague (Czech Republic) · Warsaw (Poland) · Budapest (Hungary) · Milan, Rome (Italy) · Barcelona, Madrid, Malaga (Spain) · Lisbon, Porto (Portugal) · Moscow, St Petersburg, Novosibirsk (Russian Federation) · Tunis (Tunisia) · Cape Town, Johannesburg, Durban (South Africa) · Nairobi (Kenya) · Tel Aviv (Israel) · Beirut (Lebanon) · Riyadh, Jeddah (Saudi Arabia)· Abu Dhabi, Dubai (UAE) · Doha (Qatar) · Delhi, Pune, Hyderabad, Bengaluru, Chennai (India) · Kuala Lumpur (Malaysia) · Singapore · Jakarta (Indonesia) · Ho Chi Minh City (Vietnam) · Seoul (South Korea) · Beijing, Shanghai, Hong Kong (China) · Tokyo, Osaka (Japan) · Sydney, Melbourne, Brisbane, Perth (Australia) · Auckland, Wellington (New Zealand)